Integrity;  Expertise;  Solutions:
Integrity is the core value that lies at the heart of all our planning decisions. It allows us to use our substantial Expertise to create bespoke Solutions for your very individual needs. That means tailoring our advice to match your personal and business goals for the future.
Informed Decisions
We take time to truly understand your goals and aspirations, so you can make Informed Decisions. Our advice is designed to give you relevant and smart, strategic solutions, to place you in the best possible position to achieve financial and personal success.
Financial Partner
We'd like to be your Financial Partner, guiding you towards personal freedom, enriching your life and our community. On a community level, we've partnered with Streetwork – a charitable foundation committed to turning around young lives.
We take time to get to know you as a person, to discover your individual needs and goals. It's an approach that personalises our recommendations so you can make informed financial decisions that directly affect your future.
It's a collaborative and flexible process, one driven by your priorities and the goals you're intent on achieving. It looks like this: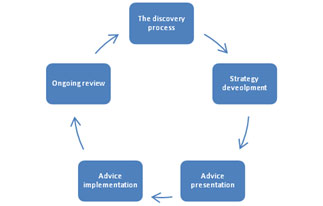 1.  Discovery
Understand what's important to you and your family.
We seek to gain a clear understanding of your personal situation, including your current assets, liabilities, income, expenses and other finance-related matters.
2.  Strategic Development
Identify issues and opportunities and tailor financial solutions.
We like to thoroughly explore and take advantage of all the options and opportunities available. This may happen over a number of meetings.
3.   Advice Presentation
Outline and explain our recommendations in detail.
4.  Advice Implementation
Agree and prioritise the implementation of our recommendations.
 5.  Ongoing Review
Examine changing life circumstances.
We need to keep the strategy underpinning your financial plan relevant at all times. This means regular reviews, which track your progress against your stated goals, then and now.